An expert in the hosting, storage and archiving of personal health data. Epiconcept is a certified "Health Data Hosting" (HDS) company.
Issued by the LSTI design office, the certification covers the development, maintenance, support and data science services of Voozanoo applications and their modules hosted by Epiconcept.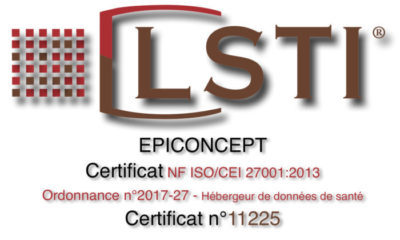 The Health Data Hosting certification confirms the high level of Epiconcept's infrastructures protection and its strigency when it comes to protect the data of its customers and their patients, which are increasingly exposed to cyber security risks.
Epiconcept's Health Data Hosting certification: a guarantee of high standards and regular monitoring HDS certification is based on international industrial standards (ISO 27001+ elements of ISO 2000-1 & ISO 27018 standards) as well as supplements specific to French regulations. It is designed in a stratified way, its six activities starting from the concrete hosting databases (the Physical Infrastructure Hosting perimeter) to cover all stages of data management, from the provision of data to its backup (Hosting provider perimeter). Epiconcept is certified for facilities management activities.