Solution Voozanoo turnkey for the realization of your clinical and epidemiological studies
Epistudy is a platform Voozanoo dedicated to clinical and epidemiological studies. A portal offers centralized access to all of the institution's studies.
In addition to centralized management of users and their access, the advantage of Epistudy lies in the standardization of studies, the pooling of repositories or "templates" of reusable questionnaires.
The advantages of our Epistudy solution
You have all the features of Voozanoo 4 and its modules (complete configuration of e-crf and questionnaires, data processing, etc.), while benefiting from appropriate ergonomics with bricks already ready for use: Inclusion curve, home page of the study.
The study portal has centralized access. Specific modules can be configured: Monitoring, randomization.
The entire hosting service provided by Epiconcept on the platform Voozanoo is covered by the ISO 27001 HDS certification.
This certification guarantees compliance with the legal framework around the security and confidentiality of health data.
Multi-project and multicentric management
Dedicated access for administrators allows them to manage the studies and the associated users: Monitoring connections, updating the status of each study or descriptive documents, viewing the progress of inclusions.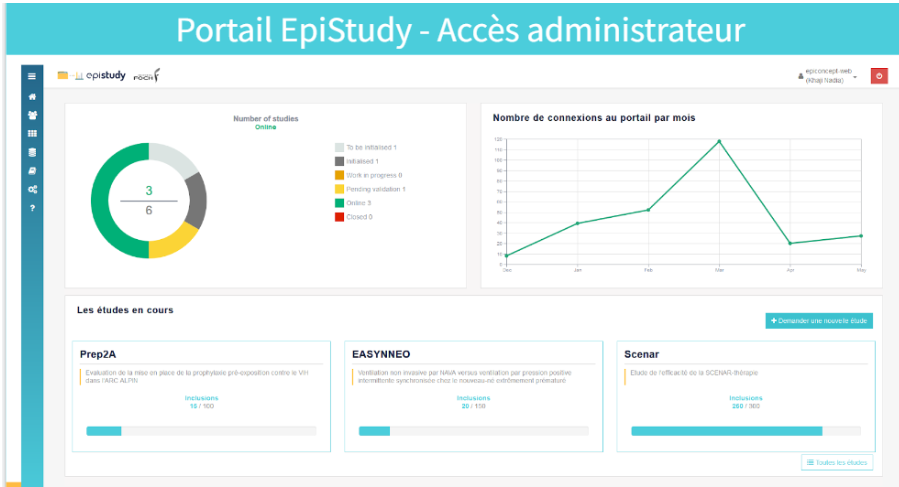 Standardization of practices and tools
You benefit from questionnaire templates and reusable repositories in all studies
Basic functionalities for epidemiological and clinical studies
Personalized dashboards,
Project creation/deletion/copy,
Sharing repositories between projects,
Standard questionnaires…
Data mining tools
Total autonomy in data exports
Development of R statistics accessible by platform administrators
Standard epidemiological and clinical study functions
e-CRF (electronic Case Report Form – centralized database and web form for collecting data, adapted to the regulations on the protection of persons),
Consistency check,
audit trail,
Data monitoring,
Follow-up of the inclusion curve,
Randomization,