Each person's health is everyone's concern, this is the very spirit of public health programmes.
The more they are connected, the more efficient these programmes will be. The more their approach is humane, ethical and in line with medical concerns, the more they will improve everyone's health and life.
As software developers, doctors, epidemiologists and data scientists, we contribute to the improvement of public health programmes by strengthening the understanding of diseases and by offering consulting services and software tools for public health professionals.
Epiconcept relies on its "Smart Health" offer. It combines skills in e-health, data sciences and epidemiology as applied to public health.
projects

carried out in support of public health actors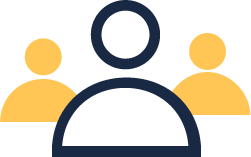 employees

with experience and motivation
countries

where Epiconcept operates
health databases

securely hosted
The Smart Health approach
With its standard softwares or dedicated projects, Epiconcept guarantees:
- A creative force, amplified by its dual core of expertise in health and IT
- A high quality, open and "user centric" approach when it comes to developing projects or choosing suitable products. Learn more
Voozanoo, technical foundation of the Smart Health project
As the application foundation for all Epiconcept e-Health projects, Voozanoo is constantly optimized in a "test and learn" approach. For more information, check our dedicated section.
Epiconcept, personal health data host
The Voozanoo platform is certified as a "personal health data host". Epiconcept is a member of the French association of personal health data providers (AFHADS).
Epiconcept complies with the rules induced by the DGMP.
Advanced data processing, algorithms and analysis: the Data Science unit identifies recurring issues and ways to optimize public health programs. It supports customers' data exploitation by offering services and solutions such as:
- Structured databases analysis for the reporting of epidemiological or biostatistical data
- Ad hoc requests: Feedback Explorer (semantic analysis module) and Social network analysis module (identification of entities/ontologies, sentiment analysis).
It also provides a SaaS software suite offering a Big Data (Hadoop, Spark, Zeppelin, Lucene) and a technical platform (text mining, data mining, web crawling, social network connectors).
Combining e-technologies and epidemiology, its expertise and consulting activities cover:
- Applied research: study coordination, drafting of research protocols, coordination of multinational research programmes (Europe), scientific communications
- Services: biostatistics and data analysis, training
- Epidemiological surveillance and response: support to outbreak investigation, setting up and coordination of surveillance networks, programme evaluation
Research
Post-marketing vaccine evaluation studies
Disease registries
Population cohorts
Medical databases
Epidemiological Surveillance
IT platform for surveillance
Set-up and evaluation of surveillance systems
IT solutions
Mobile health
Alert & Response
Task force provision
Tools for case & contact management
Tools for response coordination
Management of attack victims
Prevention
Studies on vaccine performance
Assessment of processes
Tools for studies on psychosocial risks at work
Screening
Tools for cancer screening programmes
Tools for STI screening
Tools for Neonatal screening
Tools for Tuberculosis screening
Care coordination
Custom tracking plan
Computerised patient record
Multidisciplinary consultation meeting
Practitioners Networks, second opinion
Training courses
Software training
Training in Epidemiology
Solutions for international solidarity organisations
Human resources management
Inventory management
Accounting in the field
Computerised patient records
Data science
Biostatistical analyses
Free texts analysis
Adaptive recoding of responses
Social media debates
Analysis and monitoring
Data science project management
Big-data architecture
Guillaume Jeannerod
CEO
Thomas Czernichow
Director of the e-Health products and services division
Valérie Nancey
Epidemiology Chief Financial and Business Development Officer
Etienne Sévin
Software architect
Loïc Flachet
Epiconcept OI Director
Our news
I-MOVE network's 13th annual meeting, Sept. 16 to 30, 2020
Due to the COVID-19 crisis, this year's I-MOVE meeting is virtual, with sessions spread out between September 16 and 30. The I-MOVE meeting is funded by ECDC and more than 150 participants registered for these sessions from primary care networks, hospitals, national laboratory reference centres and other institutes in 23 countries across the WHO European Region and beyond. The I-MOVE network's 13th annual meeting addresses influenza vaccine effectiveness and the co-circulation of influenza and COVID-19 and its consequences at primary care…
Voozanoo : updates of the framework and its modules
Improvements to the mobile version, the application editor and our support settings… here are our last updates. 1. Release of the Voozanoo 1.6 mobile application on Android: Two notable changes are to be reported in this new version:– it allows the apps to be used in any language, as opposed to only English and French before. – the mobile application also handles complex page navigation that is more aligned to…
Voozanoo 4.2 compatible for the filling of the Shared Medical Record and the reading of included documents in indirect authentication.
A public project of the Ministry of Health ratified by the 2016 health law, the Shared Medical Record contains all the patient's medical data. It should facilitate the coordination and continuity of care.The French Shared Medical Record can now be fed from applications developed under Voozanoo 4.2, and the associated documents can be read. All documents can be accessed directly on the Shared Medical Records website. The latest version of…
We commit to respond within 48hrs